Racial Reconciliation was the topic of The Gathering of Leaders Philadelphia Gathering in June 2022. As a native of the Northwest, I am more familiar with the incomplete reconciliation with tribal peoples. I did not think that I had much to offer to the group.  I was ready to listen. When colleagues were impressed that I changed the visual culture of my Idaho parish to be brown in my first year as rector, I was surprised. This article is about how I used a method called Episcopal Moment and Etsy to become an accidental disrupter of racism.
Parishioners are often late to service, or it takes a while to log on to digital church. I use the first three to five minutes to quickly explain something in our space or tradition: The Episcopal Moment.  I have taught about the shape of church windows, biographies of biblical figures and how tinsel reminds us to care for refuges. It is not a sermon. It does not relate to the lessons very often.  It feels like something a tour guide would say. The Episcopal Moment is random in content but consistent every Sunday. The first step is to decide how you are going to introduce your parish to the more diverse images in a playful way.
The second step is to pick the images you want to replace and a sequence. Here is a potential sequence and a Pinterest page to see some choices. https://pin.it/3x50qJr
Advent: consider adding a traveling Mary and Joseph to your social media posts.
Christmastide: Your Creche or Nativity figures can be brown.
Epiphany: Check your Children's Bibles and posters. This is the least controversial and perhaps most effective.
Lent: Station of the Cross can have all brown figures. I found it efficient to watercolor and embellish purchased woodcut images and then frame them.
Easter: I made stick puppets for the probable Witnesses to the Resurrection just like a nativity set.
Pentecost: Bulletin and newsletter images frequently come from ELCA Sundays and Seasons
Trinity Sunday: Images of the Holy Trinity or Holy Spirit are more than two guys and a bird. Until the training I had not noticed that the faces in my two favorites are darker.
Feast of the annunciation: Brown Marian images are difficult to find. I suggest Etsy for Central American or Eastern Orthodox icons.
All Saints: Consider icons of your patron saint. Do they reflect the idea that all the people in the Bible are people of color?
Christ the King: Diverse images of Christ in a collage or wooden form are less controversial.


---
Now you know how you want to introduce new images, you have the images you like, what are some methods to keep the conversation open?
---
Remind parishioners that they already know that all the people in the Bible are people of color.  Do this often. Remind members that that there are few physical descriptions of Biblical characters.  Every change in visual culture is an experiment or exercise. None of the changes were very expensive, hence Etsy.
These methods are in order difficulty.
Do something new: try traveling Mary and Joseph, images of the Trinity or Holy Spirit with darker forms or images of the Witnesses to the Resurrection to get started. Pinterest board: https://pin.it/3x50qJr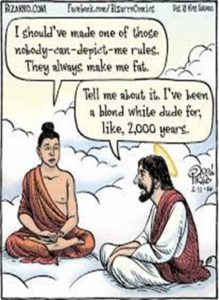 Solve a problem: perhaps your Nativity set has seen better days, or your Christmas pageant planning is not going well. Replace a nativity barn with a cave. Choose brown peg doll figures, many animals, and the Godly Play Christmas Eve script. People will remember that Jesus was born in a cave and reborn in a cave rather than a wooden barn. Clean up a bookcase of kid's Bibles. Demonstrate fidelity to our full communion relationship by using a Lutheran source for graphics for bulletins. I do not have stained glass windows to change. You could photograph your windows and make the figures darker in photoshop as a devotion. I would not attempt to change a stained-glass window unless you must repair the windows anyway.
Get some help: If your devotional art was a memorial gift or if the Stations of the Cross services are well attended, you are going to need the support of your matriarchs. They should be very excited about more accurate stations or devotional art as an instructional tool. I painted colors into purchased woodcut stations so it would feel like a gift. I elected a tone of enjoying the art. I encouraged my parish to enter the icons in one of three ways. First, background which indicated the time of day or if Christ had fallen. Second, the play between red, blue, white, and metallic gold. Where was humanity, divinity, joy and honor in each image? This will lead parishioners to delay the question "Does it look like Jesus to me?" If parishioners ask that question, you can remind people that artists have always made Jesus look like themselves or their neighbors so they could see God in each other's faces. But of course, Jesus was a first century Jew and looked like his neighbors. 
Many images or add text: If you want to remove an all-white image of your patron saint, Mary or Jesus, try replacing it with a collage of images. Or an image plus text (like the Magnificat). Get your taste makers to help you shop for the images, but you make the final choices. By now your parish should have a stronger visual vocabulary. If you cannot get all the way here, you have already made a cognitive difference. You are already disrupting racism.


---

---

The Rev. Lea Colvill is a native Montanan. She earned Bachelor of Arts degrees in Political Science and History as well as a Master of Education from the University of Montana. She went to seminary at The School of Theology at the University of the South (Sewanee.) Colvill served in the Diocese of Indianapolis at curate, director of Sunday School and school chaplain at Trinity Episcopal Church. She was priest-in-charge at Emmanuel in Hailey, Idaho.  Her most effective ministry in Hailey was a traveling lock-in evangelism program for middle school students. She helped the critically acclaimed movie "Mass" to be filmed at Emmanuel.  Colvill has served St. Luke's in Idaho Falls for just over a year. Colvill is the only solo, female rector in the Diocese of Idaho. Colvill lives with her bicycle mechanic husband of 28 years, their teenage daughter and a large, tabby cat who plays cards. The Colvill family camps in their VW bus but without the cat. They are gluten-free cooks and love the mountains.