Burning Man is not just a party in the desert. For thousands of participants, it is a pilgrimage site. Logistically though, Burning Man is a temporary city of 70,000 people. Like any city, it has roads, public safety infrastructure, and medical centers. It also has cafes, tea shops, bars, concert venues, art museums, hotels, restaurants, playgrounds, and even a post office system and an airport. And this city runs on an economy of gifting. That's not bartering. Gifts are by definition given away with no expectation of reciprocity in return. Gifts are given not to get something, but to simply give joy to another human being. So everything in the city is offered as a gift for free to anybody who walks up.
Gifting is just one of the principles that guide the culture of the city. There are 10 Principles in total: radical inclusion, gifting, decommodification, radical self-reliance, radical self-expression, communal effort, civic responsibility, leave no trace, participation, and immediacy. These principles shape how social interaction happens in the city. Every city resident is a participant in this crazy event, and we all have to make sure we are taking care of ourselves, taking care of others, and being in the here & now. Burning Man is not just all the stuff that is happening in the city, it is also an experiment in living in a radically different culture from dominant American culture.
And I have been part of a camp called Religious AF. All those offerings I mentioned above (restaurants, bars, concert venues, etc) are put on by theme camps. Religious AF puts on church…sort of. We are an eclectic mix of Christian folk: Episcopalians, ELCA Lutherans, American Baptists, Roman Catholics, and even Quakers. And we offer daily morning prayer (of various kinds) in our chapel dome (16 foot geodesic dome structure), daily Eucharists out at the Temple (more about the Temple below), and time in the afternoon for people to come and have conversations with Christians about faith, spirituality, religious trauma, and more.
Part of what inspired the camp (and its name) is that Burning Man has its own Census Bureau. And according to that data, almost 50% of Burning Man participants self-identify as "Spiritual, but Not Religious." Even with that being the fastest growing spiritual movement in America right now, 50% is a high number! Only about 5 – 6% of residents identify as "religious" (which includes all religious groups, not just Christians). And that makes Burning Man a very post-Christendom context to do ministry in. And a great petri dish to experiment and explore how the Christian faith can authentically engage the Spiritual, but Not Religious.
For a lot of the city residents, the spiritual center of the community is the Temple. The Temple is a humongous, multi-story structure. Each year different architects, artists, and builders submit their plans and one is selected. And so each year the structure looks different, but it is always built of wood. This allows people to write onto the very structure itself the prayers, grief, pain, joys, and hopes of their hearts and souls. And as this happens, you can feel the spiritual gravitas of the space. And our camp goes out to the Temple where people are gathered for spiritual nourishment to offer daily Eucharists. Opportunities for people to engage in Christian ritual to process their grief, sorrow, and sadness, as well as to celebrate their joy and hope. Many participants in these services do have a Christian upbringing. And we get to see tears roll down people's faces as they take communion or receive a blessing. And when we talk to them afterwards we discover that they are so moved and touched by having a way to reclaim their Christian past and feel a sense of belonging in a Christian context, sometimes for the first time.
Our camp has learned that this kind of vulnerability is key to serving in a post-Christian context. That people are deeply hungry for authentic human connection. Connection like what Jesus and his disciples shared. And that kind of connection requires vulnerability. When people come to our camp and share their religious wounds and trauma, the best medicine we find is to join them in crying or raging. Not to try to justify why we are "different" or "better" Christians. But to bear witness authentically and vulnerably to their pain and acknowledge it as real.
And this kind of vulnerable authenticity brings with it another lesson in evangelism in this context: decommodified evangelism. This is really hard for denominational structures, but at Burning Man it is absolutely vital that we focus on the Gospel of Christ rather than on denominational loyalty or branding. We are not selling a particular church. We are not even selling Church. We are inviting people to engage with Jesus through rituals, prayer, and conversation. This is key because the notion that we are trying to sell something or get people to join something immediately puts them on guard. And that being guarded shuts off the vulnerable authenticity necessary to connect deeply as humans. And so we focus on inviting people to see Christ already active in their own lives and in this city. So that they might encounter Christ everywhere they go.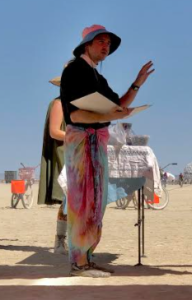 Rev. Alex Leach is an Episcopal Priest serving as Priest-in-Charge at St. Luke's Episcopal Church in Woodland, CA. He is in the Diocese of Northern California. He has a wife and a 4 year old daughter, and has been part of Burning Man culture for over 10 years. You can reach him at apleac@gmail.com. More information about Religious AF can be found at religiousafcamp.com.