"One night on a mission trip to North Carolina our junior and senior high youth group had a fun evening out on a river walk in the town where we stayed. The kids shopped and the adults were waiting by a local ice cream store. Suddenly, one of the youth, Sophia, ran up to us very upset. She said a man was lying on the boardwalk who looked drunk and was bleeding. A lot of people were walking by, ignoring him. She knew she needed to do something but didn't know what to do. One of our adult leaders is a social worker and works with homeless populations, so she sprang into action, knowing exactly what to do. She found a hotline and talked to the appropriate people who would come to get him assistance. While waiting for help, the group needed to return to the church for the night, but her middle-school-aged son wanted to remain with her. Her son, Micah, is a profoundly compassionate young African-American man (who is very protective of his mom).
While the two were waiting for help to come, Micah realized that the man, who was white, was wearing a t-shirt with a confederate flag on it. Micah was suddenly fearful and angry. He pulled his mom aside.
"Mom!" he said, "he is wearing a confederate flag. He is racist. We aren't really going to help someone like that, are we?"
His mom replied, "Yes, we are. Because he is hurting, and we are Christian, and that is just who we are."
This was a moment when Micah had to synthesize who he thought he was (a strong black person who stands up to racism) with the call to be Christ's hands in the world by reaching out in kindness to someone who may or may not have hated him. For Erik Erikson, this is a moment of identity crisis. James Fowler talks about this part of development in terms of developing the story of our own stories and the stress of creating the myth of our future self. Micah had to figure out what it means to both fight racism and have compassion for the racist.
The previously mentioned Sophia had been taught for several years in our program about the "bystander effect." Many studies have shown that the more people are present, the less likely someone is to help a person in need. Sophia was in middle school at the time and firmly in what Fowler calls the Synthetic-Conventional stage. In this phase, the spiritual authority still resides outside the self but strongly relies on the community outside the family. How they perceive others perceive them influences heavily how they perceive themselves.
The power of the bystander effect is that two social contracts conflict; the understanding that we should help vs. the idea that we should do what everyone else is doing. For a young person in the identity-building stage of life, conforming to what everyone else is doing is not only normative, it is so powerful that the need to fit in can be a fear-driven obsession. So, for Sophia to overcome those societal forces (no one else is helping, I should fit in and walk on), she had to tap into previous learnings that had become part of her identity. The man's need for help outweighed her discomfort, breaking the social norm she saw happening around her. As Fowler says when talking about the influences on a young person's life, "When God is a significant other in this mix…the commitment to God and the correlated self-image can exert a powerful ordering on a youth's identity and values outlook."
This is an excerpt from our book called, "The Micah Paradigm: Building a Culture of Justice and Mercy in Your Church's Children and Youth Programs" Although the Micah in this story above loves to take credit for the title of our book, it is actually drawn from the biblical imperative in Micah 6:8; Do justice, love mercy, walk humbly with God.
Our book uses the three child developmental models of Jean Piaget, Erik Erikson, and James Fowler to develop learning goals for each age around issues of mercy, justice and solidarity and is meant to empower youth ministers and Christian educators to help children grow into who God dreams they can be. Using stories from our experiences and plenty of mistakes we made, we share ways to meet a child at each developmental stage, what lessons they are able to understand, and what service and outreach work (mercy) is appropriate for each age level.
An important part of this idea is that it does not matter how many children or youth one has in a congregation. We devote an entire chapter to how this paradigm can work in the various church sizes including family and pastoral size churches. As The Rev. Mike Kinman, rector of All Saints, Pasadena says of the book, "It's not a program to be implemented but a transformative lens for entire faith communities."
I workshopped this material several years ago at my first Gathering and am so grateful for the support and feedback I received there. Currently, we are working with several parishes and dioceses around these ideas, so do please reach out if you have questions or want to know how to bring these ideas into your parish!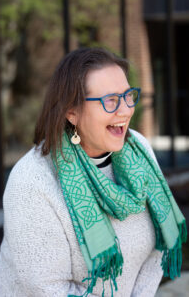 The Rev. Kelly Demo is the Associate Rector at St. Thomas the Apostle Episcopal Church in Overland Park, Kansas. During her 24 years of ordained ministry much of Kelly's work has focused on both youth and their spiritual development, and matters of social justice and poverty. Outside the church Rev. Demo worked for ten years with international aid organizations. She created and published a Scripture based retreat for youth called Miqra which is used in many dioceses around the country. She is currently developing a curriculum that helps older teens discover their gifts and God-given passions so they might serve the Kingdom. Kelly is married to The Rev. Gar Demo. They have two children, a dog, and a cat she never knew she needed.