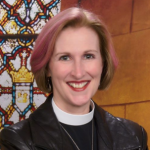 When I signed up for my first Gathering of Leaders event some months ago, I thought: the mountains of North Carolina in the Fall, what's not to love? Indeed, the waters of Lake Logan were pristine and surrounding mountains were covered with trees decked out in glittering fall foliage. It rained, which made the leaves and fir needles all the more fragrant and gave us a reason to light fires in the huge stone fireplaces in the lodge. But the terrain and weather were not the best part of the Gathering.
The best part of the Gathering was coming together with colleagues in a setting where all of us were all experts . . . and none of us were experts. It was a loaves and fishes experience: everyone shared what they had and took what they needed, and resources of wisdom, kindness, courage and trust overflowed.
The theme for GOL this year has been "Unity and Division in a Missionary Church." The theme "unity and division" hits close to home in my diocesan context, Fort Worth, in which the largest number of congregations were taken out of The Episcopal Church – but not for the reasons that are often assumed! A remarkable thing about the continuing Diocese of Fort Worth is the amount of true unity among those who have remained in The Episcopal Church. Not because we all agree with one another on any single thing (we don't!), but because we each had to figure out what being a Christian and being an Episcopalian meant to us – and to take a stand for what we believe. This articulation of our relationships with God and one another draws our congregations to deeper engagement in the lives of individuals and communities – and helps us to grow!
It was so good to engage with colleagues at a deeper level than is typically possible in a group setting. Initially, I was skeptical that the carefully planned format of GOL (peer-led presentations and Bible studies in a context of worship and fellowship) would really make a difference in the quality of our interactions, but it did. I look forward to attending another Gathering soon!
The Rev. Canon Janet Waggoner
Fort Worth, TX
Canon to the Ordinary, Diocese of Fort Worth