Canon Katie Clark offers this insightful reflection after attending the Chicago Lay Leader Gathering.
"How did you get invited into the secret society?"
This question came from a clergy colleague who has always wanted to attend Gathering of Leaders. While we both had a great laugh about her question, I had to admit that I wasn't sure what to expect at this second gathering of lay leaders at Gathering of Leaders. As a communicator (and admittedly a Type-A personality) I was itching for the elevator pitch and detailed agenda right up front. But, sometimes jumping into the unknown brings great reward, and I'm glad I took that step!
Arriving at the beautiful Mundelein Seminary near Chicago, I was delighted to see a few familiar faces and many folks from around the church that I hadn't yet met. I was further delighted to note that the schedule was structured with ample time built in for networking and deeper conversations. The group was small enough at around thirty to really get to know each other
better and build the network. Our theme for the gathering, "The Missionary Church After Christendom" was defined as moving past that era when everyone was assumed to know the Christian story, the church held a position of public respect, and Sunday mornings were reserved for worship. Coming from the "unchurched belt" of northern New England — where we have the lowest rates in the country of church attendance, of folks indicating "religion is important in everyday life", and where the majority say they are "not religious"— this theme particularly resonated with me.
We got some grounding and historical context in Christendom on our first day from Dr. Scott Bader-Saye from Seminary of the Southwest who brought us all on a journey from the beginning of Christendom to the present day in a fast-moving, thought-provoking, and sometimes irreverent talk. Dr. Bader-Saye got everyone's creative juices flowing in considering our current Episcopal identity, how we can ignite a sense of adventure in our faith, how we can build communities that openly welcome everyone's varied gifts, and how we can work to oppose racial injustice and to hold space for dialogue across difference. What followed was a series of group reflections, Bible study sessions, and networking time that allowed us to digest and discuss our learnings.
In the morning of our second day, we focused on Mission Moments. These Moments and stories were presented by a wide variety of lay leaders from across the church. We heard stories about formation, administration, communications, and more. There were key nuggets of insight from each Mission Moment we could take away and use in our own work context. What arose in these Moments and following discussions was a consensus of how lay leadership is treated very differently from clergy within the church. We receive less hand-holding and career guidance, making networks like the Gathering of Leaders that much more important to build and expand. I was delighted to share a Mission Moment, co-presenting with Heidi Carter. Heidi and I both
agreed that when we hear folks talk about The Episcopal Church, in our own work contexts, there's a lack of confidence around it, it's almost apologetic in tone. Our talk challenged participants to consider in their context how they can better know and proclaim their own faith stories, and to do so unapologetically.
In the afternoon we dove into tools to enhance our leadership capacity including adaptive conversations and coaching. We also were challenged to claim our lay leader role in the clergy formation process. As the event came to a close, we were treated to a fantastic full-event recap from Ryan Kusumoto — a practice that I want to bring to live events I facilitate in the future!
As this Gathering's participants departed back across the country, I reflected on the elevator pitch that came up during our session which is to see the Gathering of Leaders (both clergy and lay leadership gatherings) as a bit of a "R&D group for The Episcopal Church – risk-taking, creative, and evangelism-focused" which resonated with me. Now that we are back into our day-to-day work, we can't lose sight of building out this great Gathering of Leaders network, especially among lay leaders. If you know of a lay leader who could benefit from this experience, please do invite them!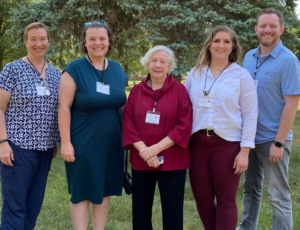 Katie Clark (far left) leads communications across two Episcopal dioceses: Maine and New Hampshire. She works with both bishops, manages communications strategy and staff, works with the press, and supports the churches in New Hampshire and Maine. Katie has an extensive background in communications, public relations, social media, nonprofit management, operations management, and market research.