Reflection on Colorado – The Rev. Elizabeth Riley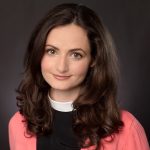 I admittedly knew very little about what to expect arriving at the Gathering of Leaders. I arrived late at night, after a full morning of preaching and presiding, and attempted to set aside the work of my congregation to be present for the conference. What I found was the breathtaking landscape of Cathedral Ridge, the Episcopal Camp and Conference Center outside of Colorado Springs. The spectacular mountains, crisp air, and zero cellphone reception or internet were the perfect backdrop to our work. The time with colleagues was particularly refreshing. I was with clergy who, with only a few exceptions, I did not already know and appreciated that our group size and schedule allowed us to build relationships and networks.
What felt clear from our conversations about unity and division is that there is no one right way to do this work. We, in this ministry, are all wrestling with incarnations of this topic in our communities and congregations. It is hard and holy work, and I found myself renewed and reinvigorated for the work after this time with peers. Our approaches varied based on the needs in our own contexts, but we shared a deep desire to be faithful to the gospel and to the ministries we do. To be reminded that the work we do, often in the silos of our own communities, is shared throughout the church is perhaps the greatest gift I received from this time at the Gathering of Leaders.
The Rev. Elizabeth Riley
Mercer Island, WA
Rector, Emmanuel Church