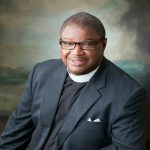 My attendance at the Gathering of Leaders (GOL) is nothing short of a profoundly transformative experience! Not only is GOL a period of personal, spiritual, and leadership development defined by renewal, reflection, and refreshment, but is also an opportunity to reconnect with old friends and make new ones.
It is deeply encouraging listening to clergy colleagues share the good work of ministry happening all across the Church, and, in particular, within the local congregational matrix and landscape bringing the Gospel of Christ alive in new, exciting, inspiring and vibrant ways.
GOL is a specialized toolbox of resources to aid the faithful as we continue to serve God, God's people, and the wider Community. Surely, GOL is one of the greatest gifts to the Church and if you are ever extended an opportunity to attend a conference, I would highly encourage you to make it a priority! You won't regret it!
The Rev. Dr. Allen Robinson
Brooklyn, NY
Rector, Grace Church Brooklyn Heights