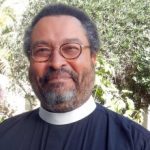 I was excited and slightly concerned when I received my invite to the Gathering of Leaders meeting in San Francisco. Excited to be included in my first GoL event, and very excited to be connected with this group, which I heard of and followed from afar. I also was very interested to hear their response to the 2018 Theme, Racial Reconciliation and Discipleship in the Missionary Church.  Concerned because taking three days out of my life is a big challenge in my schedule of preparing for General Convention. Concerned also to see who turned up to discuss the theme; will it be a gathering of the dominant culture talking about the problems of race without listening to the actual experiences of their clergy peers? I felt: If the latter was true, then I took time out of my schedule would be wasted because it would be the same old, same old and not helpful at all. And I would be the only person of colour in the room. And that is a situation truly not worth my time. I was fortunate that two friends from the Union of Black Episcopalians told me: GO, do not miss the opportunity. You can listen and contribute to the conversation.
I arrived at the Mercy Center Gathering straight from a weekend of pre-General Convention organizing. The folks who came to the Gathering were old friends and acquaintances I was happy to see again, and, the new folks quite engaging who welcomed me into their groups. The approach to the topic, Racial Reconciliation and Discipleship in the Missionary Church, had reflections from theological basis (thank you Dr Battle!), a sense of direction from the Church Officers, and very deep Bible Study. I especially appreciated the shared experience from both black and white clergy working in multi cultural mission, and felt the white, dominant culture clergy listened, deeply listened, to the challenges and sometimes pain of their fellow clergy of color living and ministering beside them in our deeply divided, institutionally racist society. The response of the participants to the shared experiences gave me hope for our common future and work in the Church.
Through attending the Gathering of Leaders I expanded old friendships and grew new ones. I've learned much from the teachings of the presenters, and feel I found a fantastic group of church leaders from which to share, to learn, and to live out our lives in the Jesus Movement.
The Rev. Eric Metoyer
San Francisco, CA
Feast of Mother Harriett Starr Cannon