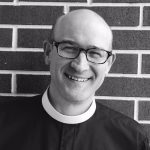 I have participated in five Gatherings beginning in 2010. Presentations and conversations on past themes like being an entrepreneurial leader or what it means to be a missionary church have been instructive and edifying to me. The vision and ministry of my colleagues in ministry have been inspiring.
This year's theme of Racial Reconciliation was a timely one for me as the church I serve in Bryan/College Station is beginning to do some work in the ministry of racial reconciliation. At this Gathering I kept asking myself, "What does racial reconciliation look like? What does it look like in my context?" After listening to a variety of people speak I began to wonder, as a white male, whether I, and people like me, are the ones who get to decide what reconciliation looks like. More appropriately it may be for those who have historically suffered oppression to answer those questions.
I may have my own ideas, but from my position of privilege, it is not for me to decide. Instead, during this season I am called to listen to people of color as to what they consider reconciliation to be, and then to work towards their vision. In the months to come, as I continue to listen and reflect on these questions, I am confident that the things I learned at this Gathering will continue to inform my ministry. I am grateful that the Gathering of Leaders is a challenging and life-giving source of formation.
The Rev. Daryl Hay
Bryan, TX
Rector, St. Andrew's Episcopal Church