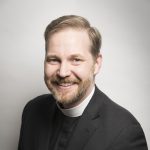 It is hard to overstate the value of time spent in prayerful reflection. My time at the New England Gathering underscored this reality for me. The theme, Bible studies, and personal reflections for the Gathering were weighty, and I was impressed not only with the candor and charity in which those who gathered worked but also with the obvious dedication each made to engaging in prayer with one another. Our time together felt spacious, we were afforded opportunity to internalize and reflect, and I am still gleaning insight and wisdom from myriad interactions.
For me, the highlight of the entire Gathering was being in one place with dozens of other leaders who are so passionate about Jesus Christ. Their backgrounds, ministry contexts, and experiences were diverse and yet they all exuded hope. It was a hope derived from the transformative power of our faith in Jesus. It was a hope that stemmed from rootedness in scripture and prayer. It was a hope that was and remains contagious. I left the Gathering knowing that the Holy Spirit is stirring up amazing things in the Episcopal Church, knowing that as we continue to address those opportunities for growth and repentance head-on we will continue to be a place where all of God's people find a place to belong. I left feeling more convinced than ever of Philippians 1:6, "I am confident of this, that the one who began a good work among you will bring it to completion by the day of Jesus Christ."
In our work toward racial and ethnic reconciliation, in our yearning for a spirit of evangelism and discipleship in our proclamation of the Gospel of Jesus Christ, the One who has begun this good work will bring it to completion.
The Rev. Cannon Shawn Wamsley
Philadelphia, PA
Canon to the Ordinary and Chief of Staff, Diocese of Pennsylvania